Climbing to Montalcino, for those who really love wine, is like going to St. Peter's for those who are fervent Catholics. The enological "miracle" is repeated at least once a year in this village of six thousand souls at 567 meters above sea level, which dominates the valleys of the Ombrone, Orcia and Asso rivers. Believers, non-believers and even agnostics in the religion of "good wine" (read: real experts, presumed and simple enthusiasts) every year converge, on time, in a weekend of mid-February, up at the top of the Montalcino hill.
It is always pleasant to meet, in a friendly atmosphere, around many good glasses, because then, after all, what matters is conviviality. "Benvenuto Brunello", at its twenty-sixth edition, focused its attention mainly on the 2013 vintage of Brunello di Montalcino (rated four stars), that is excellent. But I would have given them five stars safely!
What grit the 2013 vintage!
There has been talk of "classic" vintage, in the name of tradition. I found it modern and lively with a few dozen excellent Brunello among those tasted in the cloister of Sant'Agostino. Despite the spring rains have affected the overall trend, in fact, the year 2013 is comparable to a centimeter at the starting blocks: ready to shoot, tonic, dynamic, fast at the finish line of drinkability without compromise. More pulp in the sip and just a pinch less elegance and fragrance than in 2012, but in good balance, thanks to freshness to be sold and ripe tannins, fruit of fresh berries.
Here we are ready at table 27, with the friend and colleague Emanuele Pellucci (and a trio of German chatter): we start to taste starting from the number 76 on the list (Tenuta Le Potazzine). The wines selected among the many tasted do not represent a classification, but are listed in order of tasting. Like every year, Casanova di Neri and Biondi Santi (happy with them) did not present their bottles to Benvenuto Brunello.
Top 30 dei Brunello di Montalcino DOCG 2013
Confirmation of confirmation is confirmed year after year. Fresh aromas of cherry and violet on a spicy background, with a light sprinkling of rosemary. Sip immediately lively, elegant in tannins, of long persistence. A "masculine", athletic, strong Brunello: a true centimeter who satisfies the taste. Like it very much!
Very definite red floral and fruity notes, pepper and aromatic spices. Lively, dynamic, intense, ample taste, classy tannins, from the red-black finale.
It is a classic of the territory of Castelnuovo dell'Abate, southern area of ​​the DOCG. Unveil Mediterranean scrub, undergrowth, mushroom and resin. In the mouth flows composed, intense, broad, balanced, with smooth tannins, between balance and freshness. Pleasant sip.
Elegant notes, fruity red evident, then pink and violet. On the palate it is very fresh, ample, lively, with good flavor. It satisfies a lot, thanks to the fine tannin and long persistence. A show in the glass.
Dense ruby ​​dress. It opens on pepper scents, mixed with coffee and tobacco on a spicy background. On the palate it is intense, sapid, lively, denoting a lot of freshness and length. Enveloping.
Notes of sweet marasca, violet, aromatic spices in the background, all in small shades with a trail that recalls dark chocolate. Fresh and sapid taste, very soft and blunt in tannins. Pleasant with its final cherry note.
Bright garnet, expresses fresh red flowers, coffee and chocolate, already a bit 'evolved. Tannic present, good acidity, closes along with a pleasant bitter note.
It opens on smoky and slightly vegetal tones with a secondary flavor. Then black pepper and spices emerge. Intense, broad, full-bodied, long and fresh. It has its own because it is polite and pleasant.
Red floral and fruity notes, fresh and enveloping. In the mouth it is immediately sapid, fresh, full-bodied, shows the muscles. Long and good tannin. Very drinkable.
In the cinnamon goblet, pink pepper, spices, coffee, all in small elegant nuances. Savory taste, good acidity, a little rough and rough, almost muscular. Further aging is required. But there is and it is made to drink.
Beautiful hints of caramel, cotton candy, cinnamon followed by a sweet red fruity trail. The flavor is dynamic, ample, full bodied, with perfect tannins. Addictive.
Vegetal and herbaceous notes, then blackberries, raspberries and cherries emerge on a bed of aromatic spices. A pleasant, well blended tannin stands out, accompanied by freshness or persistence for a well-balanced taste.
It tastes like pepper and spicy spices, pleasantly delicate. Sorso measured, elegant, at the same time dynamic and balanced. Really a beautiful Brunello, in line with the vintage style.
It opens up to the already evolved smell, between chocolate and coffee, and there is no lack of fresh notes of morello cherry, pink pepper and incense followed by a pleasant cherry in spirit. Sip a bit 'alcoholic but gritty and pleasant, balanced overall, thanks to manual tannins.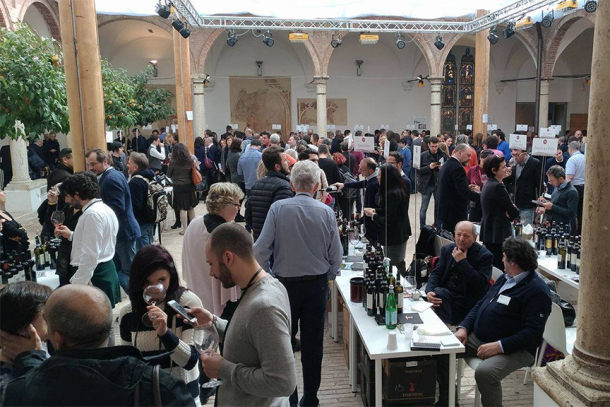 Elegant notes of spices and coffee, with fresh fruit in the background. Delicate taste, which travels between acidity and absolute softness, almost sweet. Fine, delicate and well balanced. A "feminine" Brunello.
Unveil dark scents, blackberries, incense, rhubarb and rosemary. Soft, delicate, very pleasant sip. A feather that you drink and drink. Excellent.
Podere Le Ripi – Heaven of Ulysses
Spicy notes, then sweet tobacco, coffee and rose flower. Fresh and dynamic on the palate: flows smoothly, long and classy.
Part shy, then go out the morello cherry and violet. Taste marked by a beautiful tannin: it flows pleasantly. Simple, but well done.
Notes of aromatic spices and red flowers in small colors. Good freshness to the sip, decidedly savory with soft tannins. Immediate but not trivial. It goes down big.
Sa of caramel, ginger, aromatic spices and fresh cherry. Intense flavor, savory, almost impetuous, but pleasant, with tannins to adjust. Gritty taste and seductive nose.
Slight tips of tobacco, iodized and enamel, on balsamic background. When tasted it is soft, full-bodied, dynamic with velvety tannins. So much stuff. Persistent. Old Style Brunello.
The Marroneto – Madonna delle Grazie
Beautiful intense and ready bouquet of marasca, liquorice and balsamicity well assorted with a sprinkling of medicinal herbs. Elegant, fine, pleasant tannins and sapidity. Excellent, but I imagine it excellent in perspective.
La Fornace – Origins
The nose is soft, alluring, including red fruit jam, a smoky tip, cloves and tobacco. Pleasant taste, measured, red fruit, tannin and alcohol ok. ninety two
The Ragnaie – V. V.
Fine, pleasant, elegant aroma of berries and tobacco. The well-tannined tannins and the great freshness balance well the taste. In the final red fruit returns.
Mastrojanni – Vigna Loreto
Characteristic very spicy and fruity red nose, with hints of mint and licorice. Intense, full-bodied sip without overdoing it. "Masculine" wine, polite, elegant.
Villa Poggio Salvi Pomona Selection
It opens well with hints of flowers, red fruit, aromatic spices. A contained, light, agile mouth of notable freshness. Pleasure and youth in the sign of red fruit.
Caparzo Vigna The House
Enamelled and iodized notes of violet, fresh rose and dahlias, with a slight hint of red fruit. Instant and sapid taste, a little green, but of good freshness. Well worked tannins.
Castello Romitorio – Silk thread
On the nose are perceived leather, tobacco, black pepper. Very fresh, sapid, full bodied, beautiful fruit in evidence and soft tannins. Persistent (like almost all Brunello Selezione tasted).
Castiglion del Bosco – Field of the Dragon
It seems already evolved, with notes of pepper, leather, tobacco, spices, herbs in the background. On the palate it is sapid, lively, enveloping, soft, silky in tannins. Along the right.
Fanti – Vallocchio
Dried fruit, a bit 'of ash, emerge on a beautiful balsamic fabric where mint, incense and licorice do their part. Taste measured, pleasant, progressive, between flavor and freshness with tarnished tannins. There is!
Top 10 dei Brunello Riserva 2012
One more year always counts. Especially if the harvest destined for the Reserve is a "five-star" like 2012. Here are 10 Brunello 10 above the average (however remarkable).
Lisini – Ugolaia
It opens on evident balsamic notes, officinal herbs, rosemary and even chocolate and coffee in beans, marasca and blackberries. Taste a little caloric but gritty, long and lively that benefits from silky tannins. A certainty and also a favorite. Always.
Perfume of delicious: berry berries, blackberries, leather, coffee in perfect symbiosis between freshness and evolution. Intense, soft, pulpy, savory and persistent mouth. Great beautiful Brunello. What a pleasure for the senses! The best ever!
It slowly reveals itself among black and pink pepper, cloves, and fruit jam in the background. It should be very elegant, fine, soft, savory, sure, on velvety tannins. Another beautiful "feminine" wine, who knows why?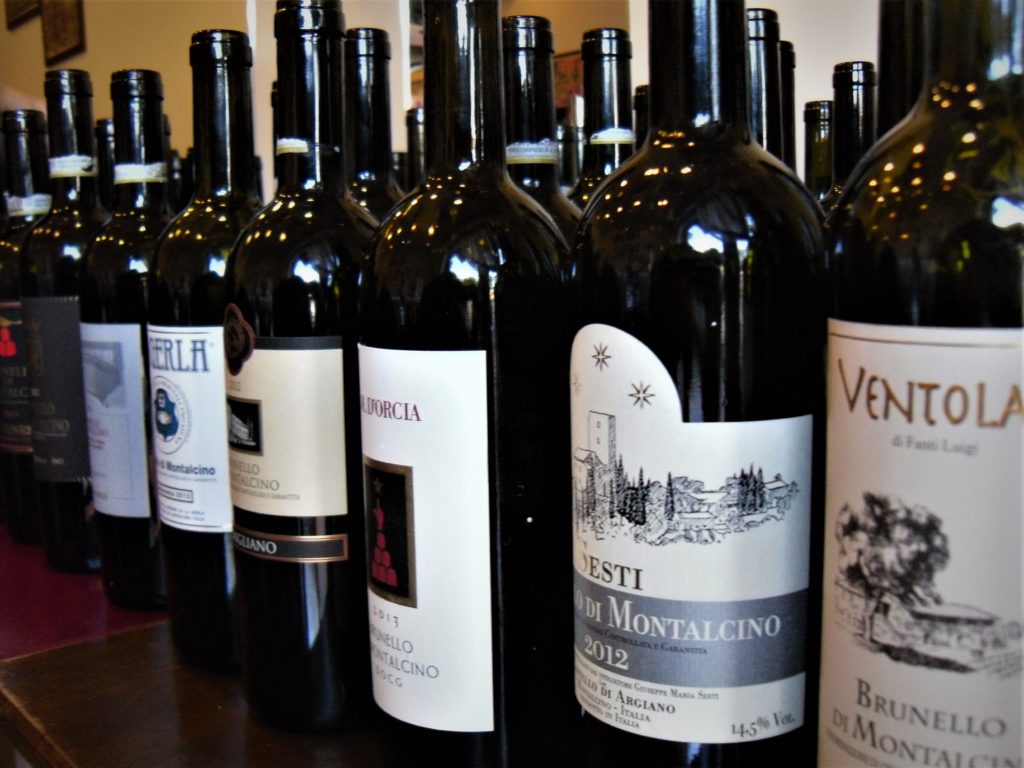 If the year was excellent, the Reserve is a security, perfectly adherent to the territory. Sa of small berries, violet, spices, slightly balsamic and peppery. In the mouth it still looks young and has much to say: great acidity, roundness and even pulp. The tannin is felt a bit ', but it is fine. A classic Brunello.
Already evolved and harmonious: notes of coffee and tobacco, black cherry jam, spicy spices. It is broad and enveloping, intense, with a lean and tonic body. Slight bitter in the finish.
Agricola Centolani – Pietranera
It is a composite aromatic wind: very spicy, balsamic between mint and licorice. Sip pleasant, well-made, balanced, not fat, fine, well-worked tannins. Modern and surprising.
Unveils dark shades of licorice and very balsamic followed by cherry in spirit. Gritty tannin, great freshness and lively drink. In closing, the jam is back. Evolving. A "smart" Brunello that will be better served in two or three years.
Scents of wild berries, Mediterranean scrub, dried fruit and violet flowers. Very elegant, full-bodied, fresh, with perfect tannins. Another "sprinter".
It is characterized by nuts such as hazelnut, toasted, resinous notes, tobacco and officinal herbs. Easy to taste, but nevertheless intense, with massaging tannins. Good persistence.
Dark and animal notes, spices, rosemary, cloves. Generous aromas and taste as wide, round, well balanced. And here too, well-managed tannins.
How is Brunello di Montalcino !
"Very well, thank you!" The wines presented, all of a very high level, would come from the glasses. And the numbers continue to give reason to what is one of the "battleships" of Italian enology, among the most appreciated in the world.
In fact, exports amount to 70% of total production. The US market (with a share of over 30%), followed by Europe (United Kingdom, Germany and Switzerland in command) to 20%; then the Asian markets (China, Japan, Hong Kong, etc.) which make up 15%, Canada (12%) and Central and South America (8%). The remaining 15% is occupied by other foreign markets. In Italy, sales of 30% remain.
According to the official numbers provided by the Consortium, production is stable: 9,010,369 bottles of Brunello bottled in 2017 (0.65% less than in 2016), and 4,617,384 those of Rosso (-0.34% over the year previous one). Sant'Antimo (250 thousand bottles) and Moscadello (40,000 units) are also stable. Compared to last year the turnover of the wine sector in Montalcino, which this year amounts to 180 million euros (170 million in 2016). The estimated value of one hectare of vineyards in Montalcino is stable, standing at around 700,000
A Benvenuto Brunello 2018 hanno partecipato 270 giornalisti accreditati da tutto al mondo, 3.300 tra operatori e wine lovers.
The public, questioned about the wines present at the Anteprima, expressed their opinion by combining the 2012 Riserva with terms such as longevity, meditation, power and essay. Elegance, style and rich are the qualities that wine lovers have found in Brunello di Montalcino 2013, while Rosso 2016 has convinced enthusiasts for its brilliance but also to be a more "unexpected" wine.
Well-deserved congratulations for Patrizio Cencioni, president of the Brunello di Montalcino Consortium, and for those who have cured, organizing to perfection, all the details of what is an annual, unmissable cult event of Italian and world enology.
In conclusion, the commission of experts evaluated the Brunello 2017, the last harvest, 4-star, that is excellent.