With a number of wineries emerging these days, all of which claim to be producers of premium wines, choosing a wine for yourself become a tedious task. On second thought, with time the wine audience has also adapted to the changes and has found out smarter ways to deal with the situation. Also, there are emerging magazines like wine front or wine companion, backed up with wine experts, that help the consumers to choose a reliable bottle for their occasions. To further help you with the situation, today in this blog post, we'd be exploring one of the award-winning wineries of Australia.
A James Halliday 4.5 star rated winery, Angullong Wines, has won various awards for their excellent wines. Over the years, they have built a reputation in the Australian markets. Located in Orange wine region, they produce cool climate wines that reflect their varietal characters at best. At present, the company's vineyards spread over an area of 200 ha planting a very diverse variety of grapes. Premium location and an experience of more than 60 years into the wine industry say in itself about the quality of wines they produce.
History of Angullong Wines
Angullong property was purchased in the year 1950 by the Crossings family. However, initially the place was used as a station for sheep and cattle. This venture continued successfully for years and later they decided to diversify their business into winemaking.
To begin with they planted a part of their property, i.e., around 540 acres, with grape wines in the year 1998 (the year of foundation for Angullong Wines). In the following years of 1999 and 2000, they continued working upon the vineyards, establishing a strong foundation for Crossings family's new venture. However, the rest of 4000 acres of land still nurtured their rich pastoral heritage. It was sheltered and well watered gazing land, on which the Angus Pastoral Co. (the Angus cattle & fodder crop enterprise) continued to flourish.
It was five years later, in 2003 that the label Angullong Wines was created. With it success, they expanded the winemaking business and presently 550 acres of their land is employed for grape growing.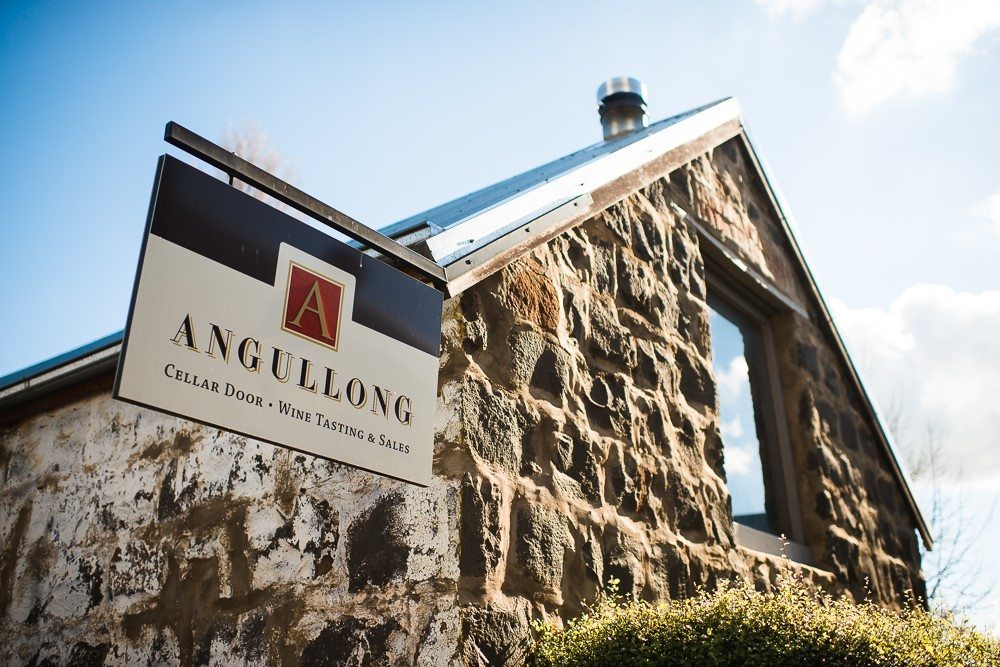 Angullong Vineyard & Winemaking
Angullong vineyard, located in the Panuara (around 35 km south of Orange wine region), is one of the biggest vineyards in the region. They employ a hands-on approach to manage the vineyard that ensures high standards in the production of grapes and wines. The grape growing requires minimal use of chemicals as there is a low risk of disease owing to the dry climate, management practices, and location.
A majority of the grape is harvested with the help of art mechanical harvesters. However, they also hand-pick fruits, especially white varieties like Viognier, Pinot Grigio and Chardonnay.
Being one of the largest in the area, the vineyard witnesses diverse soil types on different altitudes that allows them to pick the best fruit parcels for Angullong wines. For some wines, small fruit parcels are picked to add further dimensions and complexity in the blends.
Once the fruit is harvested, the winemaking process begins and is based on a simple philosophy that the quality of wine depends on the fruit and a winemaker should employ a method which allows the wines to express their region. All the winemaking process is overseen by an extremely experienced winemaker Jon Reynolds of the Orange wine region.
At present, they grown 18 varieties of wine grapes in the vineyard. This include:
Cabernet Sauvignon
Chardonnay
Barbera
Cabernet Franc
Montepulciano
Marsanne
Malbec
Merlot
Sauvignon Blanc
Riesling
Sangiovese
Pinot Gris
Sagrantino
Shiraz
Verdelho
Tempranillo
Viognier
Vermentino
The company's aim is to make cutting edge, premium quality wines that are enjoyed and appreciated by all. To order a bottle of Angullong, visit Just Wines – Australia's second largest wine website.