Vinoforum Class
There have been several wine events in the last few days, showing off a lot of 'bubbles': the best on the market.
Vinòforum Class, mainly addressed to people who work in this field and specialized press, has brought 90 producers with over 130 high-end labels in the archaeological site of the Domitian Stadium. There were lables such as: Barolo, Brunello, Amarone, great sparkling Italian wines and prestigious Champagne.
Champagne
Another important event was 'SparkleDAY 2019"' organized by Cucina & Vini. During the event, they presented the 'Guide to the best Italian sparkling wines' and organised tastings with over 60 producers of the wines awarded by the Guide.
Award ceremony Sparkle
As we are getting close to Christmas festivities, when the highest consumption of bubbles occurs, I will point out my best tastings.
ADAMI, leading company for Prosecco, produces many labels and I have chosen these two
Garbel and Vigneto Giardino
Garbel – Prosecco Brut DOC
Started fermentation in autoclave in February 2018. Intense and fine perlage, brings to the nose aromas of acacia, wisteria and bread crust. The impact on the palate is disruptive then, when the effect of the bubbles ends, flavours of yellow pulp fruits can be appreciated. It is sharp, fresh and sapid and a fine spice is what remains in the mouth when the sip ends.
Vigneto Giardino Rive di Colbertaldo Valdobbiadene Prosecco Superiore DOCG
Started fermentation in autoclave in March 2018. White and yellow flowers, an touch of honey, some aromatic herbs. It brings flavors of honey, almond and yellow fruits to the palate. It is fresh and flowing, dry, complex and pleasant, and closes with a nice spiciness.
FIRRIATO – Gaudensius Blanc de Blancs Metodo Classico Brut
This extraordinary bottle comes from the blend of two wines produced from grapes that grow hundreds of kilometers away: Chardonnay, that grows near Palermo with special breeding procedures, and barricade that grows on the slopes of Etna. Then, 30 months on bottled yeasts. Acidity, exotic fruit, citrus, and spiciness are the salient features of the long sip, which is pleasant, balanced, complex and elegant.
Dubl
FEUDI SANGREGORIO – Dubl Brut Rosé
Produced with Aglianico grapes only, it looks pretty intense and bright pink in the glass, with a fine and persistent perlage. To the nose, it releases aromas of raspberries and blueberries accompanied by delicate aromas of red flowers. To the palate, the bubbles are part of a balanced concert of small ripe red fruits, freshness, flavor and fine spiciness.
Cepage
CONTI VISTARINO – Cépage Pas Dosè 2009
Ancient family who first introduced the cultivation of pinot noir in the area of Pavia. This wine is a blend of pinot nero, chardonnay and riesling renano and it follows a 30-month fermentation in bottle. It was 'dègorgè' in October 2017. The perlage is fine and persistent, very exuberant. It is very complex on the nose recalling yellow flowers, exotic fruit and a light note of sage. To the palate, hazelnut and almond notes are added to the initial complexity perceived by the nose. It is fresh, effervescent, long and elegant.
KETTMEIR – '1919' Riserva Extra Brut 2012
Blend of Chardonnay (60%) and pinot noir (40%); just one-third of the chardonnay ferments in barrique. After the blend it re-ferments in bottles for 60 months. The perlage is fine-grained, while pleasant aromas simulate a bouquet of magnolias and hawthorn. To the palate it offers various flavors, with high freshness and a subtle yet pleasant spiciness in the closing.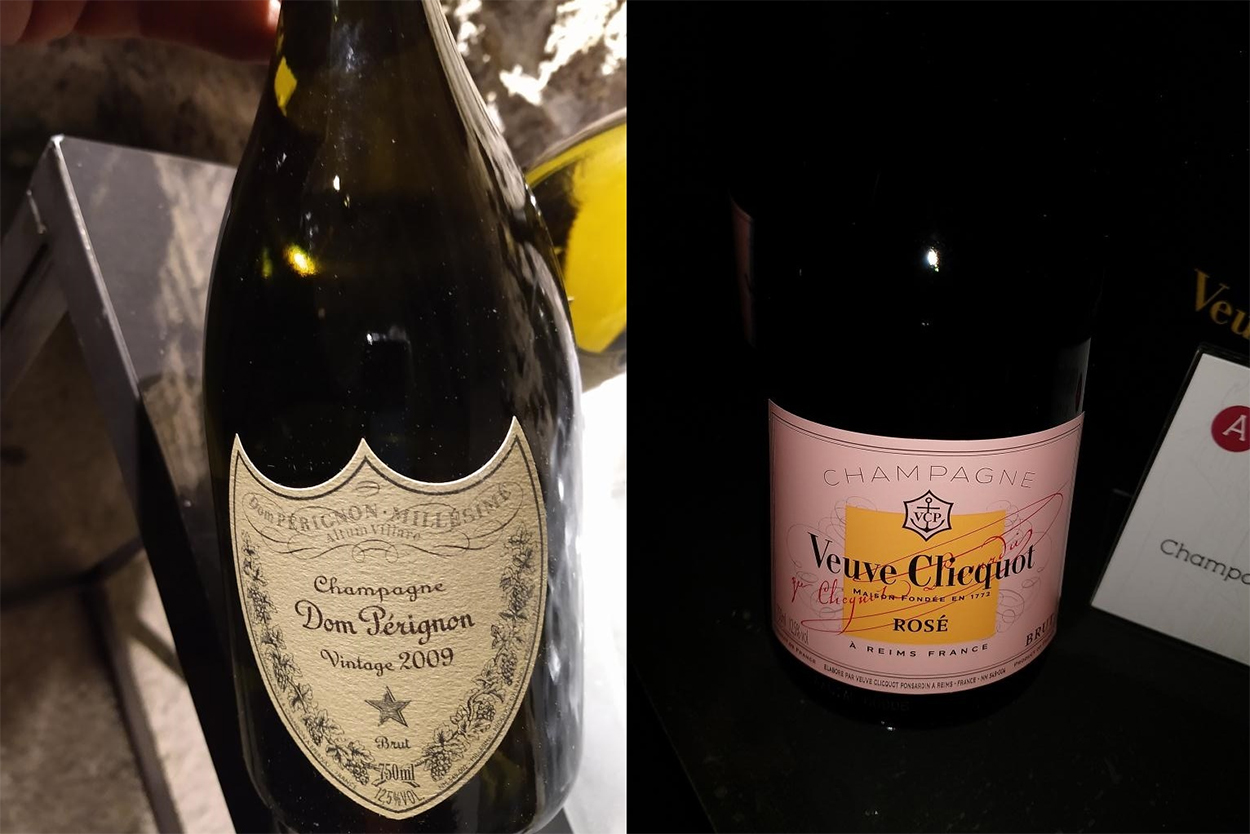 Ricci Curbastro
RICCI CURBASTRO – Franciacorta Dosaggio Zero Gualberto 2009
This wine is really excellent: it combines freshness, delicacy and elegance. Flavors and aromas are very clear, the sip is dynamic, offering various flavors while keeping high freshness. It definitely needs another sip.
FRATELLI BERLUCCHI – Freccianera Rosa Franciacorta Brut Rosè 2014
The grapes are vinified separately and the wines are assembled in these percentages: chardonnay 40%, pinot noir 30% (vinified in rosé), pinot noir 30% (vinified in white). Disgorgement takes place after 45 months on the yeasts. The perlage is thick, it has black fruits and bread crust aromas with a slight smoky note. To the palate it is juicy and tasty, acidity and spiciness are combined in a truly balanced sip.
Il Mosnel
IL MOSNEL – Franciacorta Riserva Pas Dosé 2008
After 102 months on the yeasts in the bottle, it gives us intense aromas of white flowers and yellow fruits, honey, vanilla, citrus, aromatic herbs, subtle notes of rocks and smoke. To the mouth it is rich, elegant and complex. The sip is soft, creamy and sharp, spicy and persistent.
CAVIT – Altemasi Graal Brut Riserva 2011
Years go by and this wine still confirms to be a guarantee of quality and goodness. Olfactory elegance and taste are highly balanced: strong acidity is accompanied by flavours of exotic fruits. The sip is long and dynamic, but a cup is not enough.
MASO MARTIS
Always among the best companies of Trento DOC – each label has a great distinct personality.
Maso Martis Rose' and Madame Martis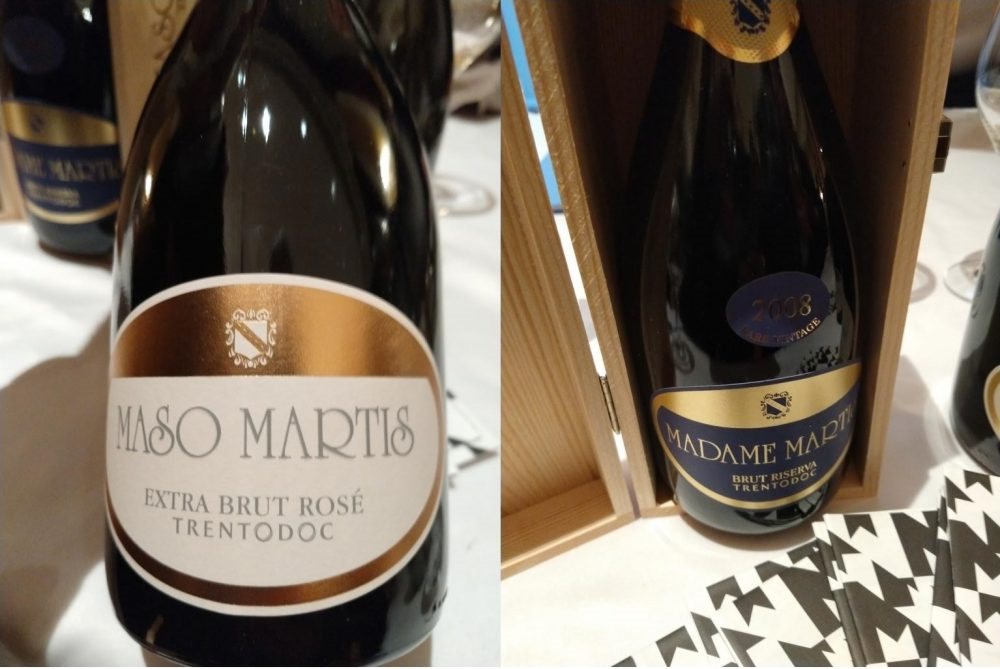 Madame Martis Brut Riserva 2008
Chardonnay, pinot noir and meunier for a deep straw yellow colour with golden reflections. The perlage is intense and fine. The bouquet quite articulated: floral, exotic fruits and strong mineral notes. To the palate it is tasty and sharp, savory and spicy; the sip is very long and spicy.
Extra Brut Rosè 2014
Withered red flowers, small black berries and mineral notes of flint are pushed towards the nose by a dense and very fine perlage. It is tasty, sapid and juicy to the palate. Freshness is high, the long sip closes by leaving a trail of fine spices on the tongue. Very stylish.
MOSER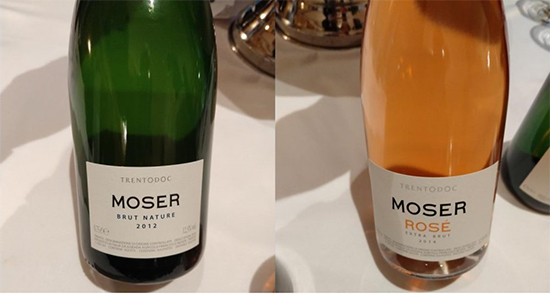 Many years have passed since Francesco Moser's Hour record and the production of the first 'Trento DOC 51.151', which is still produced and is an excellent sparkling wine. However, the company now produces two more elaborate and more complex sparkling wines.
Brut Nature and Rosé
Rosé Extra Brut 2014
Only pinot noir grapes, for a minimum of 36 months on selected yeasts. Beautiful colour gradiant, intense and very fine perlage. It has noble aromas of small forest fruits. To the palate, in addition to fruit, it is sharp and has a good structure and sapidity, yet preserving delicacy and elegance.
Brut Nature 2011
Strong straw-yellow colour, very fine perlage. Inviting aromas to the nose with hawthorn, jujubes, white-pulp fruits and a flint puff. To the palate it is sharp, slightly citrusy and has numerous delicate flavors. It is crisp and deep, sapid, mineral, spicy and persistent: a great balance indeed.
Giulio Ferrari Rose' Riserva
FERRARI – Giulio Ferrari Riserva del Fondatore Rosè Extra Brut 2006
Simply perfect and pleasant in each part: the perlage is intense and persistent, while the color is vivid and intense – a watercolor pink with copper reflections. To the nose it gives intense aromas of red flowers and small black fruits with a slight smoky note. Flavors are quite neat: sharp freshness and a fine spicy note close the long and deep sip. Really exciting!