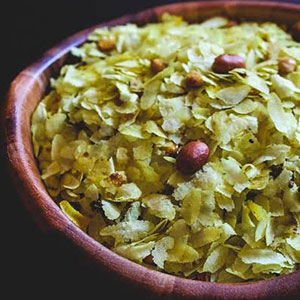 It's less than 30 days for one of the most glorious festivals of the year – you know it's a name – yeah, it is Diwali.
Ritualistic-ly Diwali is a festival of victory of God Rama over Raksha Ravana but we celebrate it mostly as an auspicious chance to meet our relatives, our friends and other family members, sharing thoughts, playing games, burning crackers aka phooljadhis, patakas and of course eating Diwali sweets, Diwali special snacks, and Namkeens.
Ahh… Diwali Sweets and Diwali Snacks
Whole year I wait for Diwali only because of these special sweets, snacks, and Namkeens. Sounds weird, but that's true. I enjoyed my mummas freshly homemade different Faral items like Chakli, Gujiya, Shankarpali, Poha Chivda. But among all items, I love eating Chivda the most, since my childhood.
I start with raw peanuts because they get imbued with the flavor of the garlic, coconut, and spice better through the cooking process. Daliya or roasted chana dal brings its unique nuttiness to the mixture.
We like lots of garlic for this. Crunching away on crisp bits of garlic and peanuts is my favorite part of this snack. When I was little and preferred my poha soft and steaming instead of cold and crisp, I snuck into the chivda stash and gobbled up all of the peanuts, eating around the poha like a selective little mouse, much to my mother's annoyance. Even though I eat all of it now, I still think the way the peanuts get all coconut-y and spicy is the best thing about it.
You'll find it delicious when trying this crispy, spicy Diwali snack.
Apart from this recipe, I'll also share with you the healthier version of this Diwali Namkeens. However, both the recipes are much more similar and both are healthy, but you'll find the second recipe healthier than the first.
So want to know easy, healthy Diwali Poha Chivda Recipe?
Let's begin
Here's the first recipe of Poha Chivda – Deep Fried Maharashtrian special Diwali Namkeen
Deep-Fried Maharashtrian special Diwali Namkeen – Poha Chivda
Ingredients:
Thin poha – 2 cups
Raw peanuts – 3 ½ cups
Roasted chana dal (daliya) – 1 ½ cups
Green chilies – sliced into thin discs
Dried coconut slices (copra) – 1/2 cup
Garlic – 16 cloves
Ginger – 1/2 inch, grated
Curry leaves (kadipatta) – 8 to 9 leaves
Black Mustard seeds – 1 ½ tsp
Cumin seeds – 1 ½ tsp
Turmeric – 1 tsp
Dhana-jeera powder – ½ tsp
Asafoetida (optional)
Sugar (optional)
Salt – 2tbsp, adjust as per your taste
Oil for frying
Steps to follow:
> In a large kadhai, add oil and deep fry thin pohas. Fry it until it swallow. Then remove it from kadhai and reserve.
> Once the Poha is done. Shallow fry raw peanuts, daliya, and other dry fruits like cashew, almonds, raisins. But don't fry all these at once. Fry all one by one. Then remove and reserve.
> Place the empty wok on the fire and heat. To the oil, add the mustard seeds.
>When the mustard starts to splutter, add the cumin seeds and curry leaves. Add the turmeric and asafoetida.
>Add the ginger and garlic and fry a bit. Then add the copra slices and fry the mixture for about ten minutes.
>Return the poha, peanuts, and daliya to the wok. Stir thoroughly to mix the poha in with the tempered oil and garlic mixture. Season liberally with salt.
>Taste the chivda. If you'd like more heat, add some chili powder.
> Mix completely and roast the chivda for five more minutes.
> Move off the heat and allow to cool before storing in air-tight container or bags.
Now your Maharashtrian style Chivda is ready to eat.
Roasted Diwali Namkeen – Roasted Poha Chivda
If your more health conscious and don't like much use of oil, spices then here's the perfect Diwali Namkeen recipe for you.
In this recipe amount of oil used, is much less. As it can be roasted in the microwave, you can make it within 20 minutes.
It is worth telling you that strictly use Thin Pohas, not Thick Pohas.
Ingredients:
2 cups thin poha flattened rice
3 ½ tablespoons peanuts raw
3 tablespoons whole cashews raw
2.5 tablespoons oil
2 tablespoons golden raisins
8 to 9 curry leaves
Generous pinch hing (optional)
1 teaspoon turmeric powder
1/4 + 1/8 teaspoon red chili powder or more to taste
2 teaspoon salt adjust to taste
1/4 + 1/8 teaspoon black pepper or to taste
2 teaspoons powdered sugar or to taste (optional)
Method:
> Pre-heat oven to 350 F degrees.
> Place thin poha in a single layer on a baking sheet lined with parchment paper. Roast it at 350F° for 15 minutes, stir once in between, and then remove and reserve. Note: the color will not be changed, it will remain white only.
> Now add peanuts and cashews on the same baking sheet, for 13 to 15 minutes. Stir once in between. The color will be changed to a golden brown, once roasted. Then remove it and reserve.
> Thereafter roast nuts in the same fashion.
> Now heat 2.5 tablespoons of oil, add the raisins, and fry for 1 minute until the raisins swell up.
> Remove on a paper towel
> Lower the heat to low and add the curry leaves and stir for 1-2 minutes. Push them to the side and add the hing and stir.
> Add the turmeric and red chili powder and stir. Curry leaves should be completely crisp by now.
> Transfer tempering to the bowl of roasted poha and nuts. Add salt, pepper, sugar, and fried raisins.
> Mix everything using a spatula, slightly crush the curry leaves as you mix.
Now your healthy, tasty, east homemade poha chivda is ready to enjoy.
Conclusion:
Diwali snacks, Diwali Namkeens are the most enjoyable part of this auspicious day. To make these snacks at your home, try my healthy, easy, tasty homemade Diwali special Poha Chivda Recipe.
However, if you don't have time to make it, let us cook for you. At RMC FOODS, we make different Diwali Special Faral items only for you, busy peoples. We get you freshly prepared homemade Diwali snacks directly from our Indian kitchen.
Call us now to order your favorite Diwali faral.
Try out these both recipes of Poha Chivda and share your experiences with me. Also, share your favorite Diwali faral item name.