Taste of Champagne is much different than that of regular wines. The best moment when you get the most out of the taste of the champagne is as soon as it enters the mouth and touches our tongue. So to enhance your enjoyment I am going to share Top 10 most Expensive Champagnes.
10. Salon Blanc de Blancs Le Mensil-sur-Oger- $300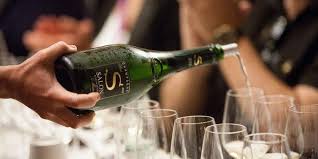 Salon Blanc de Blancs Le Mensil-sur-Oger 1997 is finest with sensitive shades it halts you immediately in your tracks. Nose is simply amazing, filled with strong honey, sherry, lemon plus intense mineral. Apricot taste, harmonized with solid saline, mineral and lemon zest bouquet is a perfect palat.
9. Dom Perignon 2004 Rosé- $330
Fascinatingly copper colour 2004 Dom Perignon Rosé has a beautiful delicate bouquet of red fruits and indicate a great purity and freshness. It has a deep and concentrated highly elegant Pinot character and full of finest and freshness. The 2004 is intense and vinous, yet pure precise and extremely fine.
8.Dom Perignon Oenotheque -$ 315.68
The 1996 Dom Perignon Oenotheque offers up layers of pastry, lemon, smoke and toastiness. At first deceptively understated, the wines turns positively explosive and layer on palate, showing a remarkable tension, elegance and power, all wrapped around a seriously intense frame
7.Perrier Jouet Belle Epoque Fleur Blanc de Blance -$363.98
Clear and bright. Opalescent with tinges of green and a persistent mousse. Generous, yet also delicate aromas fill the nose: lilac blossom and young white fruits such as peach and grapefruit. Hints of orange confit, vanilla and cream bring a subtle richness to the bouquet. The attack is fresh, racy and enticing. In the mouth it is delicate yet dynamic, with beautiful length that seduces the palate.
6. Armand de Brignac "Ace Of Spades" Rose- $499.98
Armand de Brignac is made up of mix of Pinot Noir, Chardonnay and Pinot Meunier. The champagne is refreshing and full-bodied. Its nose is vibrant and even clean having red fresh fruits in advance and then gently smoky grilled tones right behind.
5. Krug Brut Vintage – $997.98
Rich and honeyed with caramel and roast chestnut notes. Acid and effervescence still supporting the richness well. Krug Brut Vintage is an opulent, concentrated, deep champagne with lots of fruit aromas
4. Shipwrecked Champagne – $14,181.81
Top 10 Most Expensive Champagne The Bottle identified as Veuve Clicquote was a part of a cache of 168 bottles found in wrecked schooner dating from 1825-30 in Finland Åland archipelago. It is much refreshing and alive. It is
sweet in style with a surprisingly bright, golden color and honeyed, toasty and farmyard aromatic.
3. 1841 Veuve Clicquot- $34000
Part of the Baltic Sea shipwreck haul mentioned earlier, Veuve Clicquot remains an elite brand today, but an 1841 bottle popping up out of the water abyss certainly deserves an equally supernatural price tag, and the Acker Merrall & Condit auctioneers promptly brought the hammer down to finalize historical proceedings.
2. 1996 Dom Perignon Rose Gold Methuselah -$49000
coppery light pink, amber and gold tones. Fruit in the most perfect state of ripeness, with wild strawberry and apricot, complemented with smoky accents. Hints of dark fruit flavors. Champagne. Pinot Noir and Chardonnay.
1. 2013 Taste of Diamond -$2.07 million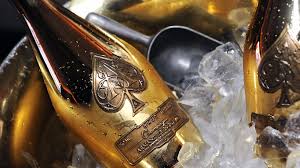 Most expensive bottle of bubbly champagne in the world is the 2013 Taste of Diamonds priced at $2.07 million a bottle. Blend of Pinot Noir, Pinot Meunier and Grand Cru Chardonnay. Taste touches floral, is refreshing and somewhat creamy texture with a light, elegant finish. The reason for such a hefty price tag is the bottle, logo has been handcrafted from 18-carat gold.