by Antonio Di Spirito
In a recent three-day full immersion by the Amalfi Coast and the Picentini Hills, passing through Castellabate and Paestum, we could appreciate the many state-of-the-art wines of those areas.
We noted with great surprise that there is a vast number of producers per area, not just one or two, and wines of excellent quality as well.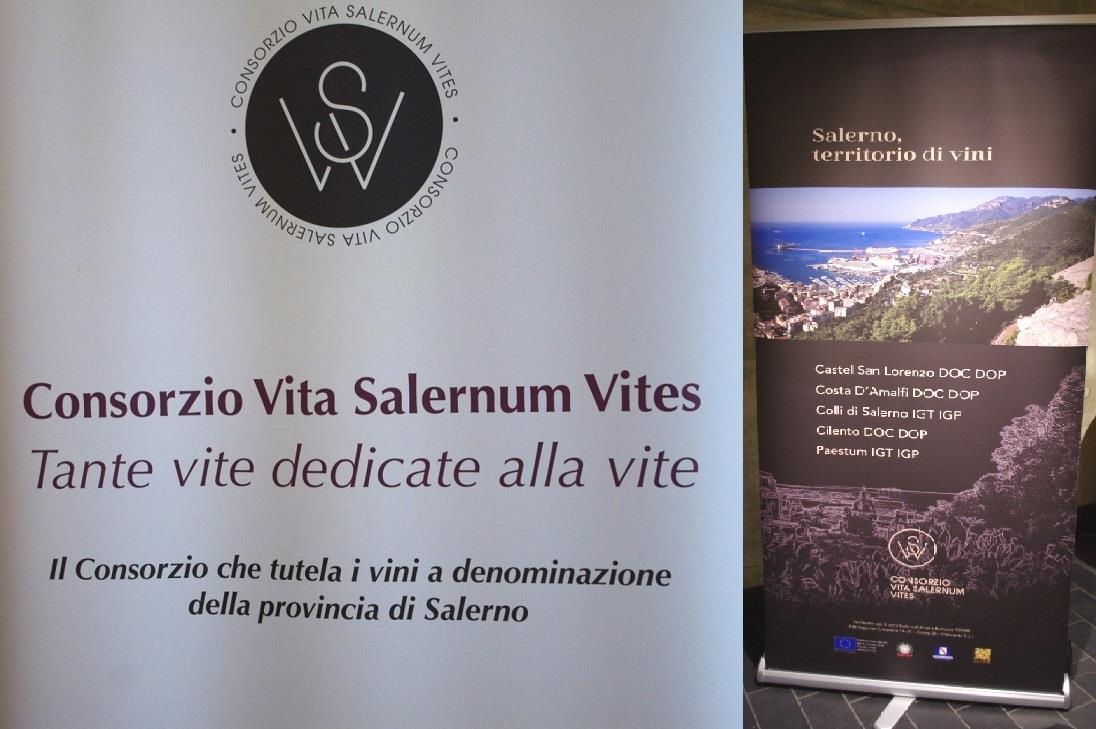 Logo
Although many wine producers do not have a century-old tradition nor a family one and they have just recently approached this complex world well, they did it the right way and with great humility.
They created a consortium that acts on a very large territory with several remarkable sub-areas, some of which play an already important role at a national level. The partners have also nominated some of the greatest characters of the world of wine, also at an international level, and given them leading roles: they will be the ones leading the consortium, helping denomination areas grow, simplifying and integrating disciplinary codes, and giving advice to less experienced producers, so to better deal with market issues.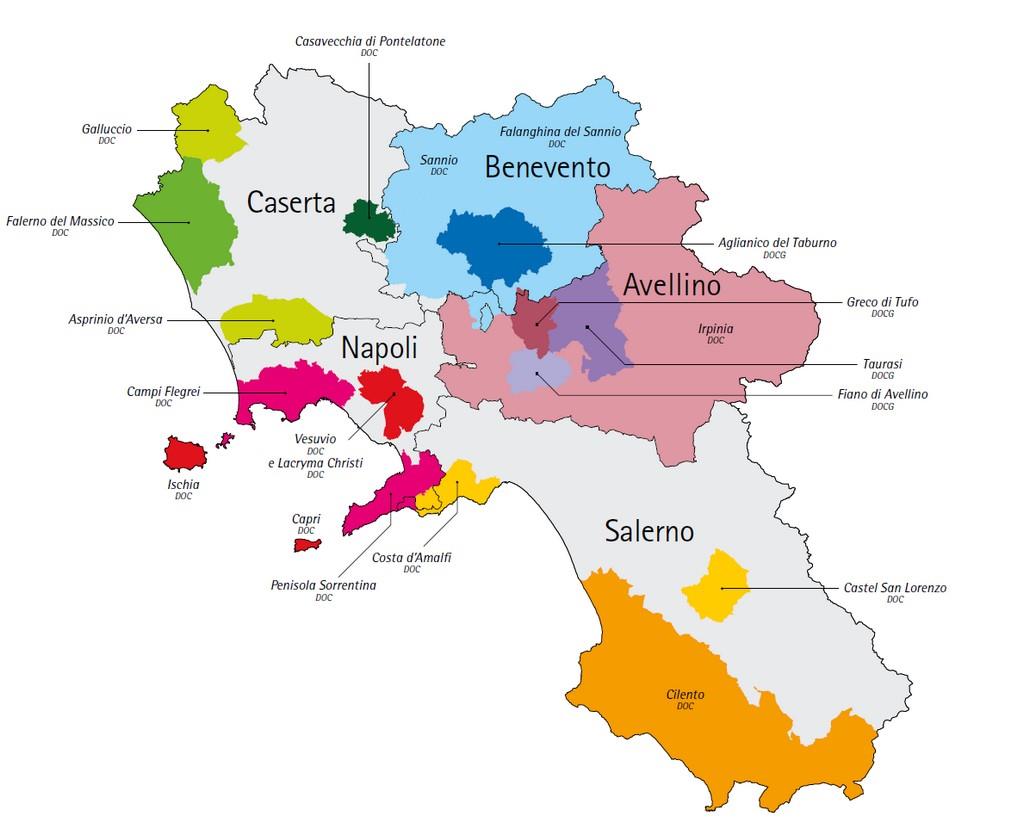 Campania of Wines
The territories we visited are not only vast, but also rich in native vines. Not to mention that some wines from international vines have become cult wines!
The consortium is called 'Consorzio VITA SALERNUM VITES' and it embodies all denominations of the province of Salerno: COSTA D'AMALFI, COLLI DI SALERNO, CASTEL SAN LORENZO, CILENTO, PAESTUM.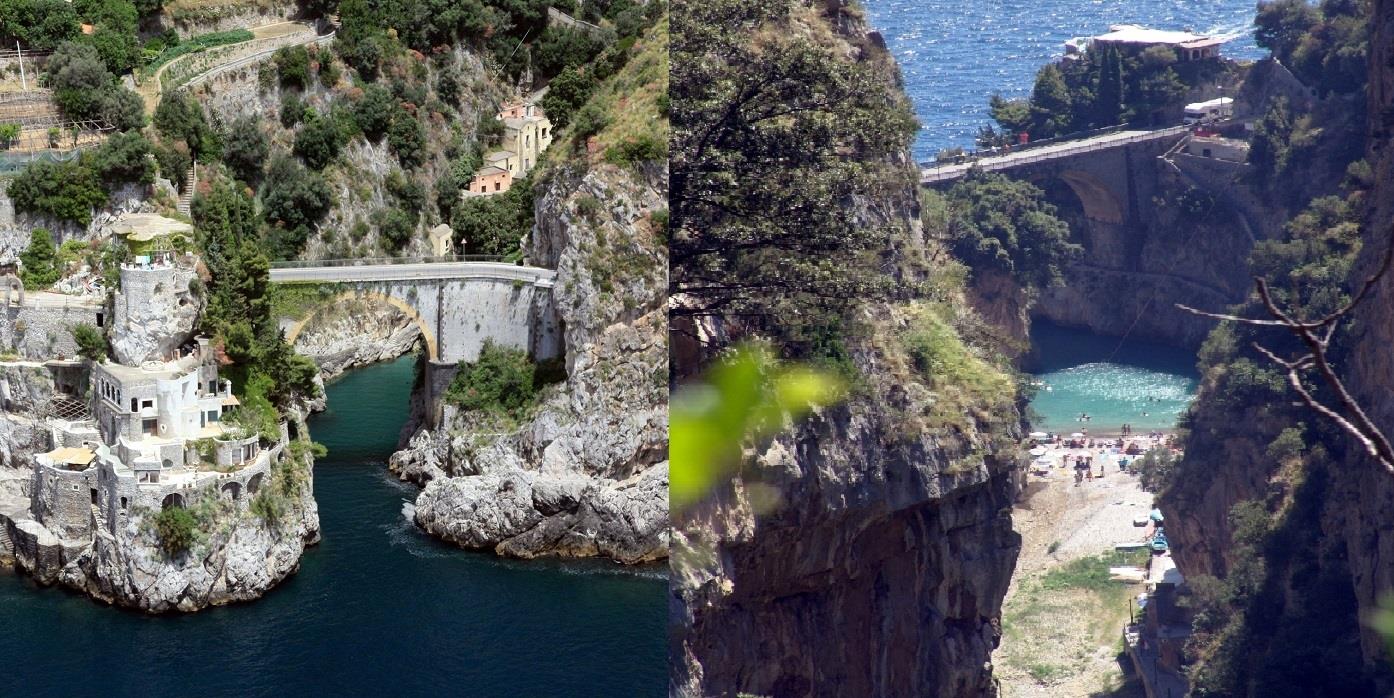 The Fjord of Furore
The Amalfi Coast is the smallest of the areas but funny enough, it is the richest in vines and also the most uncomfortable one to go through: with its terraces overlooking the sea (you can find 30 degree slopes or above) it is one of the few Italian areas recognized as 'heroic viticulture'.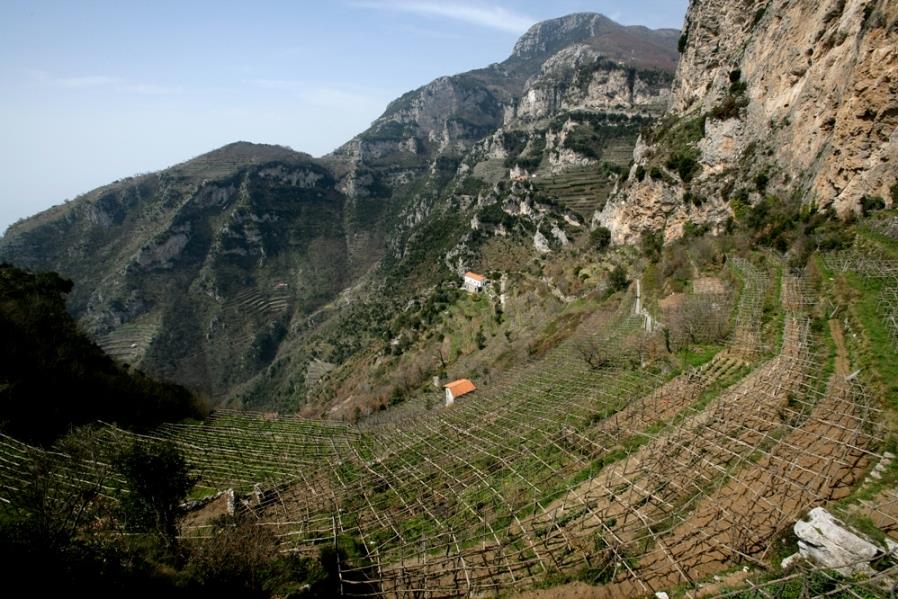 Vineyards in Furore
The new systems are called espalier, but all around you can see very old vines, up to two meters high, popping out horizontally from dry-stone walls (macere) thus forming a big tent. This was the old way of cultivating vine – this way the semi-shaded ground below could be used as a vegetable garden, with no particular need for frequent watering.

Horizontally-planted vineyards
On the other hand, wine-growing in Tramonti and other in-land areas is different: vineyards are always on the hills, with equally important slopes.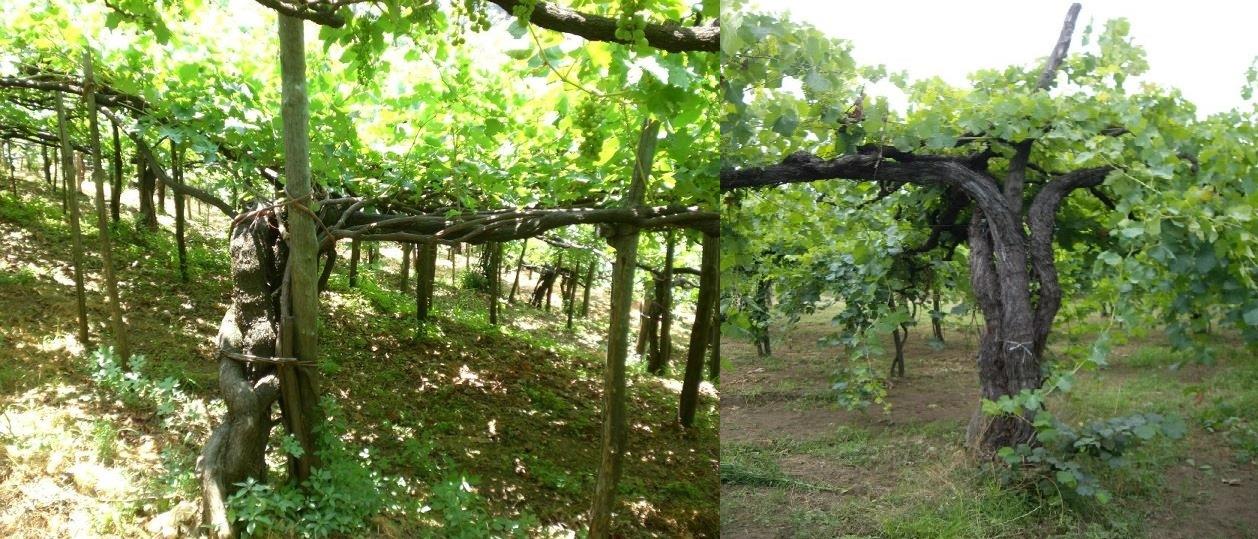 Tramonti vineyards
Tramonti's heritage features typical vines and it is very similar to that of the islands of Ischia and Capri. With its three sub-areas of Furore, Ravello and Tramonti, this area includes the municipalities of Amalfi, Atrani, Conca dei Marini, Furore, Maiori, Minori, Positano, Praiano, Ravello, Scala, Tramonti, Cetara and Vietri. These last two though do not belong to any of the sub-areas.
White grapes cultivated in these areas are: Falanghina, Bianca Tenera or Biancolella, Bianca Zita or Ginestra, Fenile, Forastera, Malvasie, Moscato, Pepella and Ripolo (or Ripoli). Red grapes for red and rosé wines are: Aglianico, Aglianicone, Piedirosso, Serpentaria, Sciascinoso, Tintore and Tronto.
All these wines are very well known and widespread – we are currently looking forward to the new vintages to comment on them.
On the second day we visited the southernmost part of this denomination area in the province of Salerno, namely Castel San Lorenzo, Cilento and Paestum – the places where they first noted that the typical Southern Italy nutrition, latter called 'Mediterranean diet', was a virtuous nutrition model and had beneficial effects against modern diseases: hypertension, arteriosclerosis, diabetes and, in general, all cardiovascular diseases. This nutrition style was then spread all over the world

Mediterranean Diet Foods
We also went to Giungano and of course, we could not avoid stopping in Paestum to see the millennial vestiges and its temples up close!

Temples of Paestum
Wine-growing and ampelographic heritage in these sub-areas have more similar characteristics to that of the province of Avellino. As matter of fact, we can find Fiano among white grape varieties, but also Greco, Malvasia Bianca and Trebbiano Toscano. For red grapes instead, we can find Aglianico, Barbera, Piedi Rosso, Primitivo Sangiovese and Aglianicone. The latter, while maintaining a close relationship with Aglianico, has different characteristics to that of the province of Avellino and above all with to that of the province of Caserta, where it is also called Aglianico Amaro because of its core features.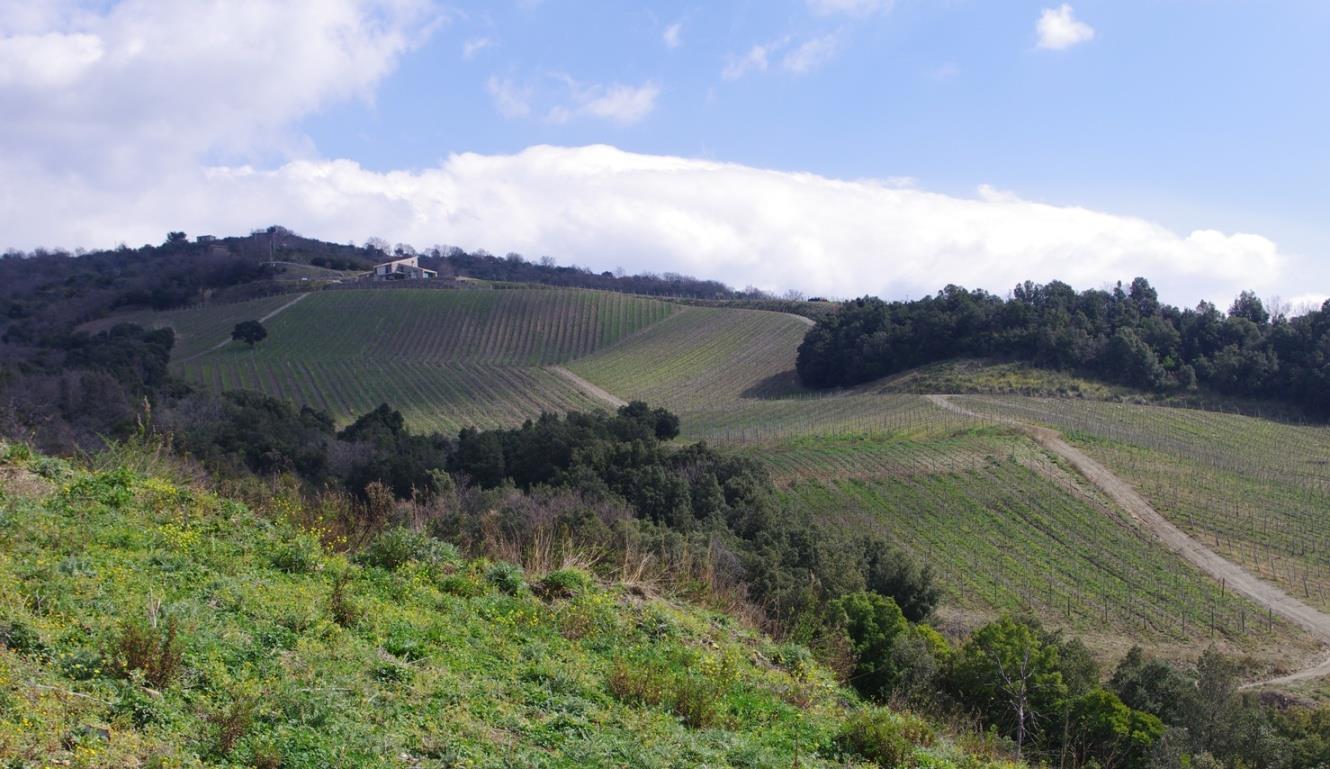 Cilento vineyards
Among the wines we tasted, Fiano for whites and Aglianico for reds left a distinctive mark of great personality.
The third day was dedicated to the denomination area of Colli di Salerno, where they cultivate the following white grapes: Coda di Volpe, Falanghina, Fiano, Greco and Moscato, while for reds they have: Aglianico, Aglianicone, Barbera, Piedirosso and Primitivo.
In 1980s, a producer planted some Bordeaux vines, such as: Cabernet Sauvignon and Merlot for a bet (or challenge among friends), and they soon proved an excellent commercial success.

Colli Salerno vineyards
It is too early to make comments on white wines as many had just been bottled. Nevertheless, some Fiano can be pleasantly drunk. Speaking of reds, I will mention some well-made Aglianico and an excellent Aglianicone: maybe it is still a little bit rustic, but it has texture and personality.