The French Wine region of Burgundy (aka "Bourgogne") may be small in size but its influence is huge in the world of vino. The complexity of Burgundy can cast fear into the heart of even a seasoned wine pro, but fear not – the region need only be as complicated as you want it to be.
Find better quality Pinot Noir and Chardonnay from Burgundy by understanding how the wines are classified. There are over 100 "appellations," or approved wine growing areas, and these are divided into 4 levels of quality.
1% Grand Cru e.g. Grands-Echézeaux, Montrachet
10% Premier Cru e.g. Vosne Romanée 1er Cru
37% Village Wines  e.g. Savigny-Les-Beaune
52% Regional Wines e.g. Crémant de Bourgogne
Regional Wines
Regional Wines can be made from grapes grown anywhere in Burgundy and tend to be fresh, light, and lively, making them terrific sippers or aperitif wines. You will find them labeled "Bourgogne Rouge" (red) or "Bourgogne Blanc (white). Don't forget to check out the back label on these wines! They are now allowed to note the grape variety, which can be really helpful.
If you like sparkling wines, the delightful "Crément de Bourgogne" is also in this category.
Village Wines
The next step-up are the "Village" wines, named after the towns near to where the grapes are sourced. These wines are still fresh and fruity, with little-to-no oak, but are a tad more complex. Look for names like "Pouilly Fuisse," "Santenay," "Givry," or "Mercurey."
Premier Cru Burgundy
"Premier Cru" wines are from special vineyard areas within a village. These bits of vineyard are called "climats" (clee-mats) and produce wines that are a bit more intense than the regular old Village wines! This might be because of the type of soil, the way the vineyard faces the morning sun, longer aging in oak, or a myriad of other reasons. Premier Crus are still affordable and make marvelous food wines. The label will say "Premier Cru" or "1er Cru."
Grand Cru Burgundy
And finally, the big daddies of Bourgogne – the "Grand Cru" with famous names like Romanée Conti, La Tâche, Montrachet, etc., and a label that will proudly proclaim the "Grand Cru" status! Although they account for just over 1% of Burgundy's annual production, these are the wines for which people are willing to pay top dollar. Bold, powerful, complex and made for cellaring, they are the epitome of both Pinot Noir and Chardonnay. There are a total of 33 Grand Cru vineyards in Burgundy – some are just inches away from a Premier Cru vineyard.
The most important thing I ever learned about Burgundy is that there are always exceptions to every rule – and here's one: Remember the classifications of wine that apply to Burgundy? Well they don't apply in Chablis. The area known for zesty Chardonnay has its very own ranking system.
 Where Exactly is Burgundy?
Located in the east-central part of France, Burgundy has 5 primary wine growing areas (not including Beaujolais and Châtillonnais):
Chablis – "shab-lee"
Côte de Nuits – the night slope
Côte de Beaune – the slope of Beaune
Côte Chalonnaise – the Chalon slope
Mâconnais – the region of Mâcon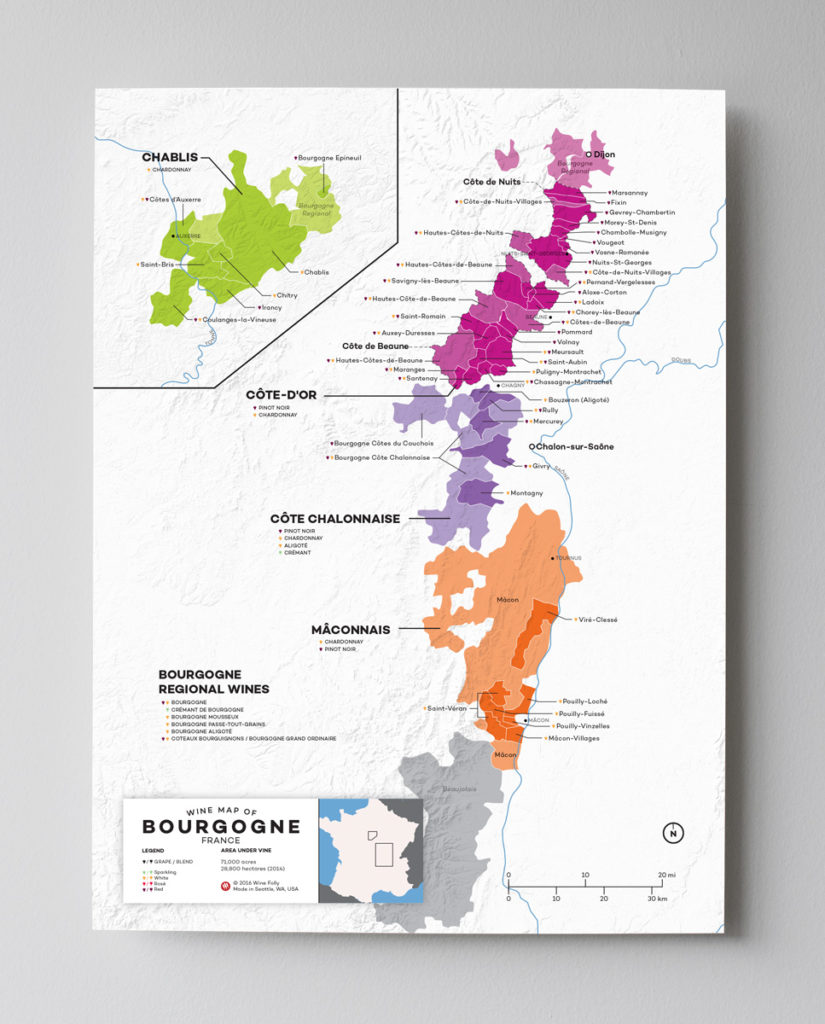 Source: https://winefolly.com/review/guide-to-burgundy-wine-with-maps/